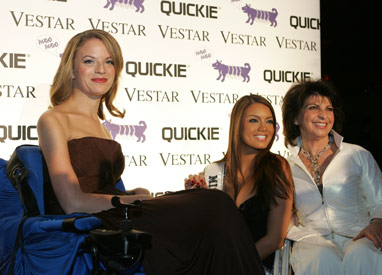 2007 Rolling with Style Gala "A Fashion Fund Raising Event"
Discovery Through Design is an organization dedicated to honoring women's lifestyles, creating awareness and raising funds for disabled women's health initiatives and spinal cord injury research. The organization's pioneering accomplishment was the Rolling With Style Gala, A Fashion Fundraising Event, that raised a million dollars to benefit women's health and spinal cord research.
DTD was founded by inspirational women using wheelchairs who are enjoying thriving careers and rewarding lives.
Internationally women have come together and used their skills, energies and accomplishments to help Discovery Through Design accomplish its mission with style, grace and substance.
Rolling With Style Gala featured a veritable who's-who of fashion designers, the best in wheelchair technology and four incredible  Roll Models, all coming together for a spectacular event. Proceeds from the event will benefit disabled women's health initiatives and spinal cord research through three key organizations: