Meet the 2007 Roll Models
Jenny Smith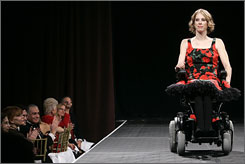 Jenny
doesn't consider herself to be "confined" to a wheelchair; rather, she says she has been "freed" by a wheelchair.
A gymnast from age 3, sixteen-year-old Jenny was practicing her tumbling outdoors one morning when her feet slipped on the wet grass. She sustained a complete C6-7 spinal cord injury that landed her in a wheelchair. That was 16 years ago.
Since then, Jenny has earned Bachelor's and Master's degrees in Psychology, led a support group for women with eating disorders, tutored immigrants and refugees in English, and competed in the 1998 Ms. Wheelchair America Pageant. She drives and also enjoys tennis, rugby and rowing.
Jenny also works for The Mobility Project, and has distributed over 1000 wheelchairs to disabled individuals throughout Mexico, Costa Rica and Afghanistan.
"A wheelchair may accompany me on my adventures, but it does not determine my future. I continue to push the limits because I have the freedom of mobility that allows me to."
Melissa Holley
Having completed her first year of college and working two summer jobs, Melissa's world turned upside-down in 2000 when a traffic accident left her a paraplegic.
Faced with a choice between rehabilitating with no chance of recovery or being the first to undergo an untried procedure half-a-world away, Melissa made the decision she says has "made all the difference." She underwent the experimental macrophage spinal cord treatment in Tel Aviv, Israel.
While she says the pioneering treatment has helped her make a "significant recovery," Melissa still lives life in her wheelchair. She has spoken for numerous fundraisers, lectureships, assemblies and media programs around the world, giving hope and reassurance to those with spinal cord injuries. She has also worked diligently to bring the Israeli procedure to the U.S.
Now back in college, Melissa swims and follows a weight training program regularly, and even received an honorable mention in Glamour Magazine's "Top Ten College Women of 2004."
"I have discovered that there is a marked difference between living with this injury, and living despite this injury," she says. "Knowing where I have been, I am very proud of where I am."
Michele Boardman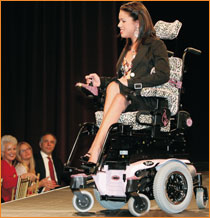 Michele
may be young, but already she has had more to overcome than most people ever experience.
Born with multiple heart defects, Michele underwent corrective surgery at the age of 3. At age 7, she was being treated by multiple specialists due to muscle weakness, but the degeneration continued. By age 12 she had lost the ability to walk. She was ultimately diagnosed with Muscular Dystrophy at the age of 16.
That diagnosis gave her a keen interest in genetics, which she pursued through high school. She received Arcadia University's four-year Distinguished Honors Academic Scholarship for studies in Biology, and is currently preparing to enter the field of Pediatric Genetic Counseling.
In 2004, Michele was among 9 disabled youth from around the world honored by the International Yes I Can! Foundation. She also received the North Penn and Wendy Gillette Awards for outstanding academics, and was named the "top performing disabled graduating senior student" in the State of Pennsylvania.
"I have always dreamed of helping people," Michele says, "to share what I have been through and inspire others to reach their full potential, no matter what their situation."
Rosemarie Rossetti, Ph.D.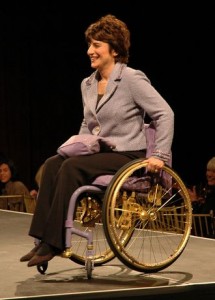 By any standard, Rosemarie "had it all" – good health, a loving family, a beautiful home, a successful career and many close friends. But her life took an unexpected turn during a simple bicycle ride in 1998, when a 3-1/2 ton tree crushed her, leaving her a paraplegic.
Rosemarie struggled through months of therapy, wondering what life would hold for her. And gradually, the answer began to form. She knew she had to do more than just survive – she had to create a life that was meaningful.
The founder of her own training and consulting company, Rosemarie began to travel the country, speaking about her struggle to overcome her devastating injury. In 1999, she received the Women Honoree Award from Women in New Growth Stages, and was chosen Woman Business Entrepreneur of the Year. In 2002, she carried the Olympic torch in Columbus, Ohio, and received the Remarkable Woman Award. In 2003, Rosemarie published her first book – Take Back Your Life! – a collection of her monthly syndicated columns which are currently enjoyed by 53,000 readers. And in 2004, she was crowned Ms. Wheelchair Ohio.
Rosemarie enjoys biking, wheelchair dancing, kayaking, weightlifting, sled ice hockey, tennis, racquetball, golf, horseback riding, snorkeling and swimming. As she puts it, "Today, I live an active life with inactive feet."