Discovery Through Design is dedicated to celebrating the style and success of women in wheelchairs, founded by four women aren't letting their spinal cord injuries keep them from enjoying their lives and careers.
Ashley Lauren Fisher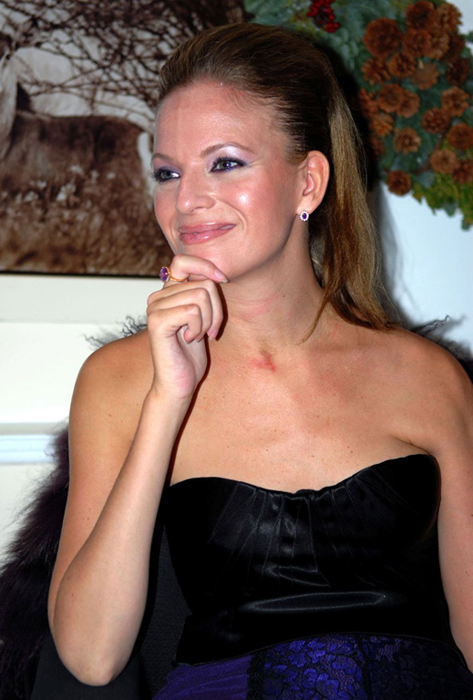 Ashley Lauren Fisher was born and raised in Montville, New Jersey. At age five she began studying the arts. During her ten plus years with The New Jersey Ballet, she studied jazz and classical ballet and participated in many theatrical performances including The Nutcracker. As the student of a Julliard Master pianist, she excelled tremendously at classical piano performing in both Carnegie Recital and Steinway Hall. After the NYC fashion industry spotted her, she was soon modeling with NYC agencies and began dancing for MTV. Ashley Lauren was in several music videos and auditioning for roles regularly.
Athletics proved to be an essential part of her life, lettering as a four year Varsity Lacrosse Player.  Ashley Lauren earned numerous awards including First Team, All State and New Jersey's Most Outstanding Center recognition from The Tri-State Coaches Association. Ashley Lauren excelled at extreme sports such as skateboarding, rollerblading, water sports and snowboarding.  As a true athlete, she gave back to her community by coaching, officiating and developing several girls youth lacrosse programs.
At twenty-three Ashley Lauren suffered a spinal cord injury. During this time, she reinvented her restaurant to four-star status and received ratings as one of the top restaurants in New Jersey. Pazzo Pazzo is the only four-star rated restaurant in Morristown and has received tremendous acclaim. Pazzo has been featured in Morris County Health, Gastronome, The Daily Record, New Jersey Monthly, and The Star Ledger to name a few. In keeping Pazzo current and edgy with Ashley's sense of style, it is no surprise that Pazzo has been awarded "Best Martini" from M magazine, "Best Italian" by Diner's Choice, "Best Outside" and "Best Culinary Experience" by Open Table, and "Best Hot Spot in New Jersey" by The Daily Record. Pazzo also appeared on ABC's, Eyewitness News for its homemade ravioli. Pazzo continues to host the NY Jets on a weekly basis and has been the dining choice of many celebrities such as Patti LaBelle, Bobby Brown, Tony Bennett, Meryl Streep, Renee Zellweger, Darius Rucker, The Village People and The Beach Boys. Pazzo Pazzo continues to reinvent itself and donates to many non-profit organizations perpetually.
As a philanthropist, Ashley Lauren has donated time and money to several national foundations herself. She has become an active member of the Christopher and Dana Reeve honorary committee and helped to establish the non-profit organization Discovery Through Design. As the vision behind the organization's gala, Rolling With Style, Ashley Lauren was responsible for creating the first one-of-a-kind NYC fashion show (involving world-renowned designers like Nicole Miller, St. John, Baby Phat, etc.) during fashion week for women with disabilities. To date, Ashley Lauren has raised over a milliondollars for spinal cord research.
Ashley has personally garnered worldwide press and as been featured in The New York Times as well as some of the world's top fashion magazines like Harper's Bazaar, The New Yorker, and Page 6. She continues to receive national and local recognition for her endeavors, receiving coverage in New Jersey Monthly, Garden State Woman, on WHTZ-FM (Z100) in New York, on CBS, ABC networks, and more.
In 2007 Ashley Lauren was the keynote speaker at New Jersey Governor's Conference on Employment for People with Disabilities and has been requested to speak for several schools and businesses.  She was awarded The up and coming Female Legend of Morris County Award from the Morris County Chamber of Commerce in 2009 and was inducted into the Montville Township High School Hall of Fame in 2011.
In May 2012, Ashley Lauren was nominated for Restaurateur of the Year by the New Jersey Restaurant Association.  In November 2012, Ashley was awarded the prestigious Gold Plate award, which recognizes Restaurateurs for their dedication and commitment to the Hospitality industry.  She received the honor at an annual gala hosted by the New Jersey Restaurant Association.  
As a former student of The Lee Strasberg Theater Institute, Ashley Lauren still keeps her craft fresh as an actor, regularly auditioning for film.  In February 2012, Ashley starred in The Vagina Monologues, with all proceeds benefiting The New Jersey Aids Association. Ashley is currently working on a film production that will be groundbreaking in outlining individuals dealing with spinal cord injuries.  
Since 2013 Ashley Lauren juggles her professional careers while representing National Mobility Awareness Month as the Spokesperson for NMEDA.  NMEDA is dedicated to expanding opportunities for people with disabilities to drive or be transported in vehicles
modified with mobility equipment.